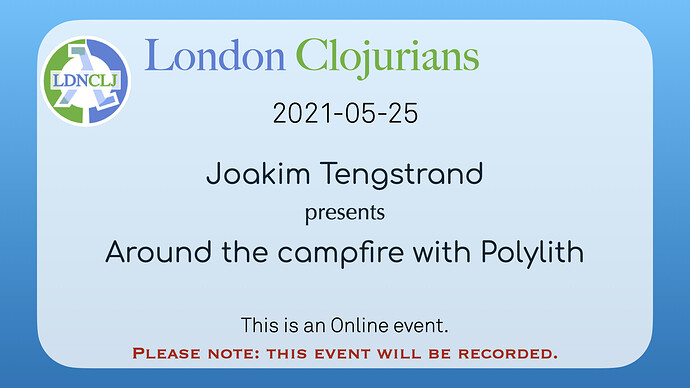 THIS IS AN ONLINE EVENT
[Connection details will be shared 1h before the start time]
The London Clojurians are happy to present:
Title: Around the campfire with Polylith
Speaker: Joakim Tengstrand
Time: 2021-05-25T17:30:00Z
Local time: 18:30 op dinsdag 25 mei 2021 in Londen, Verenigd Koninkrijk - Time.is (click here for local time)
RSVP: Around the campfire with Polylith (by Joakim Tengstrand) | Meetup
Joakim Tengstrand (https://www.linkedin.com/in/joakim-tengstrand) will be presenting
a short introduction of the Polylith architecture. Prepare yourself
with questions, because after this the plan is to let the audience
decide what to dive into, e.g. the Polylith codebase itself or
questions that the documentation doesn't answer.
Joakim started programming in 1981, bought his first computer 1983, a
Vic-20, and spent an unhealthy amount of time during the following 15
years programming in assembly, C and C++, when he finally got his
first job as a developer in 1986. His curiosity and passion for
programming finally lead him to Clojure and Polylith.
If you missed this event, you can watch the recording on our YouTube channel:
https://www.youtube.com/c/LondonClojurians
(The recording will be uploaded a couple of days after the event.)
RSVP: Around the campfire with Polylith (by Joakim Tengstrand) | Meetup