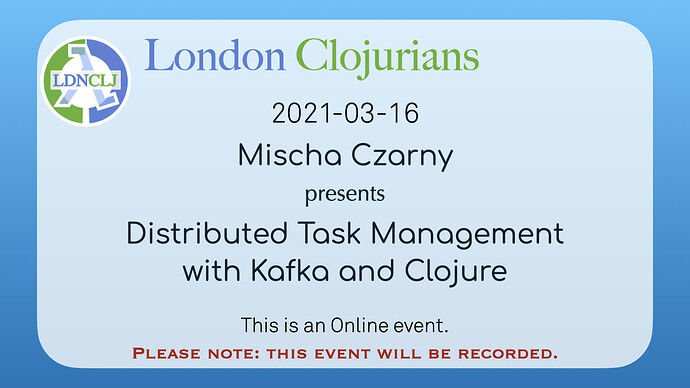 THIS IS AN ONLINE EVENT
[Connection details will be shared 1h before the start time]
The London Clojurians are happy to present:
Title: Distributed Task Management with Kafka and Clojure
Time: 2021-03-16 @ 18:30 (GMT / London time)
Local time: https://time.is/1830_16_March_2021_in_London/ (click here for local time)
RSVP: https://www.meetup.com/London-Clojurians/events/275730307/
Mischa Czarny (https://github.com/mischac) will be presenting:
How to utilise some not (yet) public Kafka functionality to build a
robust distributed task management. And how to test it.
Frontend -, Backend- , Fullstack-, Software- and Data Engineer etc: in
his career Mischa had many different job titles, saw many different
programming languages and technologies and finally also encountered
Clojure and Kafka.
If you missed this event, you can watch the recording on our YouTube channel:

(The recording will be uploaded a couple of days after the event.)
RSVP: https://www.meetup.com/London-Clojurians/events/275730307/