I was in the audience when Rich said that, and I admittedly jolted into a nervous laughter because I was just about to go after him to give a talk about Parinfer. Chris and I caught him in the hall the following day and asked him if he could clarify what he meant—he did not mean paredit/parinfer.
It was just a confusing choice of the "par-" prefix to describe paren-less syntax. Understandable though—Parinfer's indentation rules are very similar to what the traditional alt-syntaxes for lisps do. The slight difference being that they use the same rules to remove parens rather than infer them in-place as Parinfer does.
But what was most interesting about our conversation is that Rich then excitedly asked us if we were familiar with "Frame-based editing". Having studied the shit out of paren stuff this summer, I was like yeah, Greenfoot!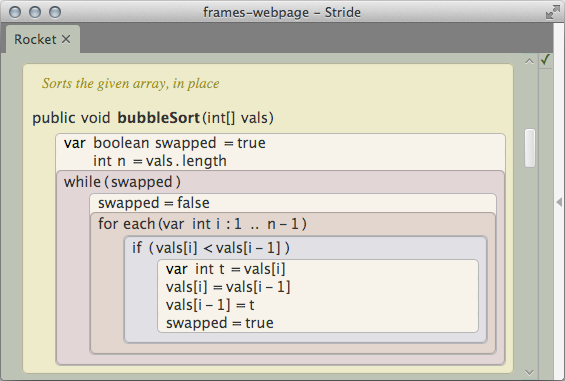 He then proceeds to describe how something like Greenfoot could work with Clojure. It would need to have an extensible way to define UI elements for different types of forms—say defn, for, and other user-defined macros/functions. His idea was that Spec could be used for describing the properties necessary for something like Greenfoot to create a UI element for a form, and clojure core and third party libraries alike could publish these Specs alongside their source if developers wanted to edit their code using this kind of UI.
What a fun idea! Even Rich is thinking about the possibilities in this space, to empower us to edit and display these parens through augmentation rather than occlusion.
(Rich is not currently working on this idea, and wants someone to do it.
)