I'm happy to announce that as of this week there's a searchable Slack-archive at #slack-archive on Clojurians-Zulip.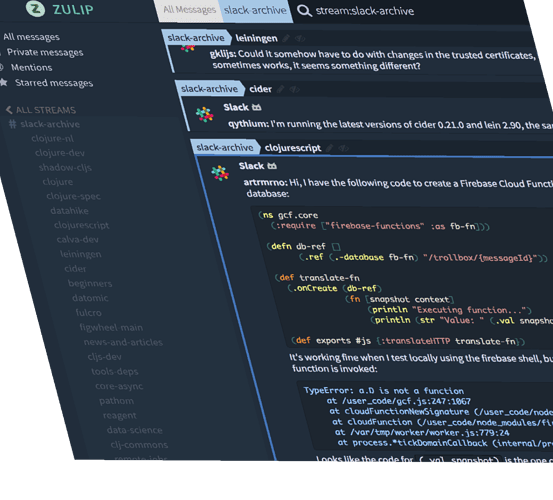 background
Ever since Clojurians-Slack started around four years ago, there was the issue of the 'limited history': the free plan allows for a maximum of 10k persisted messages.
As Clojurians-Slack got more popular this meant the effective searchable history shrunk from more than a dozen days to (currently) only several days.
Up till now the slack-archive most people know about can be found at https://clojurians-log.clojureverse.org/ (thanks to @plexus and contributors!).
With the introduction of Clojurians-Zulip last November there came another opportunity to persist messages and make them also more easily searchable.
There's an absolute wealth of knowledge that's being shared every day and I hope this additional, searchable archive will help (future) users of the Clojure community!
details
Currently around 60 Slack-channels are mirrored. If slack-user zulip-mirror-bot is a member of a channel, the channel is indeed mirrored. If you want to start mirroring a channel, just invite the bot (ie /invite @zulip-mirror-bot).
Clojurians-Zulip
While we're at it, allow me to give a status-update/sales-pitch on Clojurians-Zulip.
Zulip-chat is an open source Slack alternative that aims to make chat more productive. It has some great apps (alongside a great web-interface) and a ton of integrations.
Best of all: they provide the Clojure-community with free hosting and unlimited message history (as they offer to all open source projects and communities).
Since Clojurians-Zulip was launched 3 months ago, more than 600 users subscribed (~150 of which in the last 30 days), and more than 50 streams were created - ranging from small OSS-projects, to user- and interestgroups.
We'd like to invite smaller groups, for whom persistent messages are especially important, to give it a spin.
We're in close contact with Slack-admins and others in the community to make it a great place alongside Clojurians-Slack. With this searchable Slack-archive I hope we're making another step in that direction.
Enjoy!
Gert (member of Clojurians-Zulip admin-team)