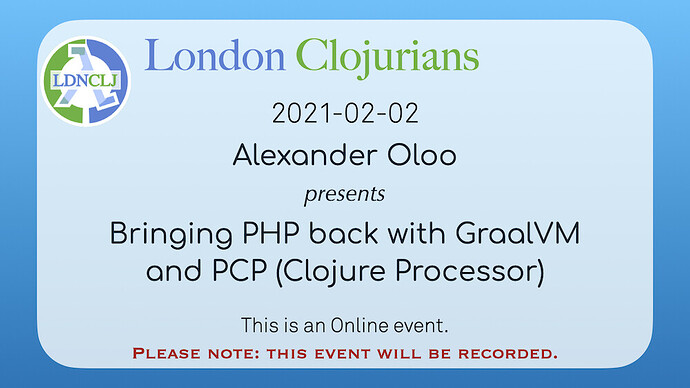 THIS IS AN ONLINE EVENT
[Connection details will be shared 1h before the start time]
The London Clojurians are happy to present:
Title: Bringing PHP back with GraalVM and PCP
Time: 2021-02-02T18:30:00Z
Local time: https://time.is/1830_02_Feb_2021_in_London/ (click here for local time)
RSVP: https://www.meetup.com/London-Clojurians/events/274592191/
Alexander Oloo (https://alexanderoloo.com/) will be presenting
PCP (https://github.com/alekcz/pcp) is a drop in replacement for
PHP-FPM that lets you build sites in Clojure with no fuss. We'll chat
about the good, the bad and the ugly of making native binaries using
graal, the evils of reflection and of course why PHP is awesome.
Alex is an engineer by trade. A designer by necessity. And a jack of
all trades for fun. He's been writing code for almost a decade. From
Assembly to C and PHP to Node. Alex's passion is debugging systems,
code, and people. Alex currently works a Design Director with the most
awesome bunch humans at Absa and dabbles in the startup life. Oh, and
he writes Clojure. Lots of it.
If you missed this event, you can watch the recording on our YouTube channel:

(The recording will be uploaded a couple of days after the event.)
RSVP: https://www.meetup.com/London-Clojurians/events/274592191/