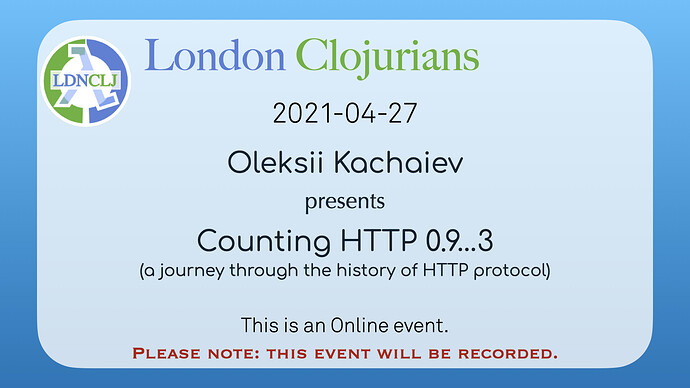 THIS IS AN ONLINE EVENT
[Connection details will be shared 1h before the start time]
The London Clojurians are happy to present:
Title: Oleksii Kachaiev
Time: 2021-04-27T17:30:00Z
Local time: https://time.is/1830_27_April_2021_in_London/ (click here for local time)
RSVP: https://www.meetup.com/London-Clojurians/events/276255080/
Oleksii Kachaiev (https://github.com/kachayev) will be presenting
30 years of Internet through the lens of HTTP protocol versions
diff. HTTP/3 brings the most significant changes we've seen so far, so
let's review them alongside with reasoning and implications analysis.
Oleksii Kachaiev is Principal Software Engineer @ Riot Games, League
of Legends Data/ML/AI. Hobbies: algebras, representation learning for
RL, and symbolic reasoning. He's one of the main contributors to
Zach Tellman's Aleph HTTP server (https://github.com/clj-commons/aleph).
If you missed this event, you can watch the recording on our YouTube channel:

(The recording will be uploaded a couple of days after the event.)
RSVP: https://www.meetup.com/London-Clojurians/events/276255080/