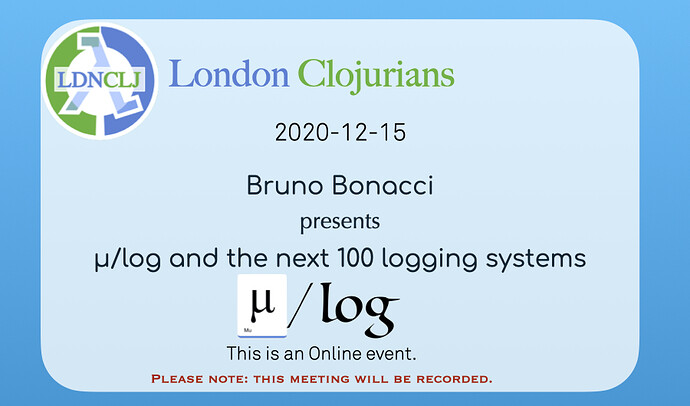 THIS IS AN ONLINE EVENT
[Connection details will be shared 1h before the start time]
The London Clojurians are happy to present:
Title: μ/log and the next 100 logging systems
Time: 2020-12-15T18:30:00Z
Local time: Countle (click here for local time)
RSVP: https://www.meetup.com/London-Clojurians/events/274302629/
Bruno Bonacci (BrunoBonacci (Bruno Bonacci) · GitHub) will be presenting his
library μ/log (GitHub - BrunoBonacci/mulog: μ/log is a micro-logging library that logs events and data, not words!) and the
motivation behind the need of yet, another logging system.
He will cover the main features of the library and what's coming next.
Bruno is a hands-on Software and Data Architect with nearly 30 years
of experience. He worked for companies like Apple, Cisco, Tesco and
Channel4, building high-volume distributed systems, Petabyte-scale
data-lakes (ground-up), real-time analytic systems, Machine Learning
platforms and more. He has over 20 years of experience in the JVM
platform and he spent last 8+ years working in Clojure.
RSVP: https://www.meetup.com/London-Clojurians/events/274302629/