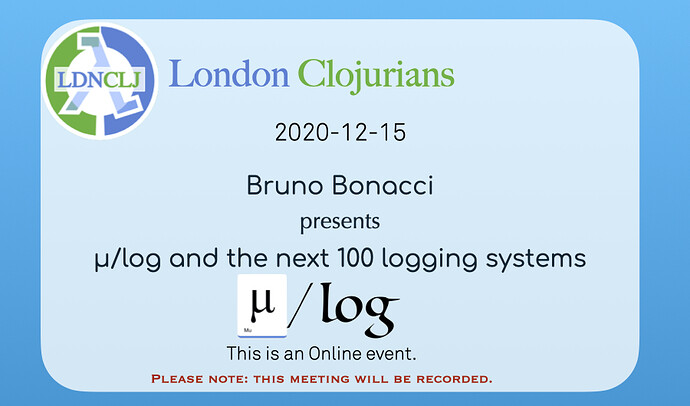 THIS IS AN ONLINE EVENT
[Connection details will be shared 1h before the start time]
The London Clojurians are happy to present:
Title: μ/log and the next 100 logging systems
Time: 2020-12-15T18:30:00Z
Local time: https://countle.com/uotIs70qo (click here for local time)
RSVP: https://www.meetup.com/London-Clojurians/events/274302629/
Bruno Bonacci (https://github.com/BrunoBonacci) will be presenting his
library μ/log (https://github.com/BrunoBonacci/mulog) and the
motivation behind the need of yet, another logging system.
He will cover the main features of the library and what's coming next.
Bruno is a hands-on Software and Data Architect with nearly 30 years
of experience. He worked for companies like Apple, Cisco, Tesco and
Channel4, building high-volume distributed systems, Petabyte-scale
data-lakes (ground-up), real-time analytic systems, Machine Learning
platforms and more. He has over 20 years of experience in the JVM
platform and he spent last 8+ years working in Clojure.
RSVP: https://www.meetup.com/London-Clojurians/events/274302629/