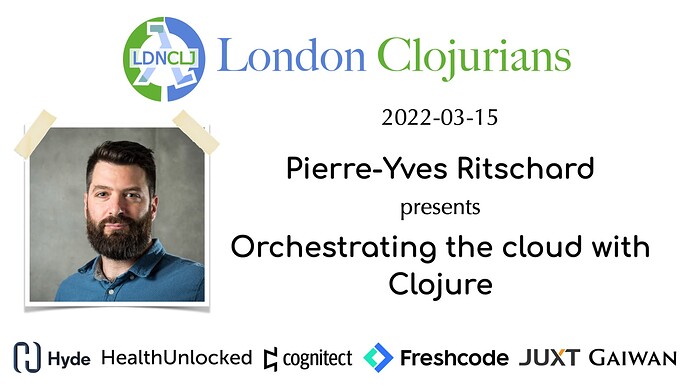 THIS IS AN ONLINE EVENT
[Connection details will be shared 1h before the start time]
The London Clojurians are happy to present:
Title: Orchestrating the cloud with Clojure
Speaker: Pierre-Yves Ritschard
Time: 2022-03-15T18:30:00Z
Local time: (click here for the time in your local zone)
RSVP: https://www.meetup.com/London-Clojurians/events/282039961/
Pierre-Yves Ritschard (https://twitter.com/pyr) will be presenting:
"Orchestrating the cloud with Clojure"
While orchestration of physical resources has historically been a task
for Perl and YAML, we will show how it is a perfect match for
Clojure's data processing abilities. With a mix of basic constructs
(FSMs, CSP, SQL) and some of Clojure's superpowers, we will show the
architecture of a typical orchestrator at Exoscale, one of the leading
European Cloud alternatives.
Pierre-Yves is CTO and co-founder at Exoscale where he is responsible
for architecture and strategic technology choices, relying on
experience in the architecture of very large corporate systems as well
as technical product design in several startups.
If you missed this event, you can watch the recording on our YouTube channel:
https://www.youtube.com/c/LondonClojurians
(The recording will be uploaded a couple of days after the event.)
Please, consider supporting the London Clojurians with a small donation:
Your contributions will enable the sustainability of the London
Clojurians community and support our varied set of online and
in-person events:
ClojureBridge London: supports under-represented groups discover Clojure
re:Clojure: our free to attend annual community conference
monthly meetup events with speakers from all over the world
subscription and admin costs such as domain name & Zoom plan for
larger online meetups
Thank you to our sponsors:
And many individual sponsors
RSVP: https://www.meetup.com/London-Clojurians/events/282039961/