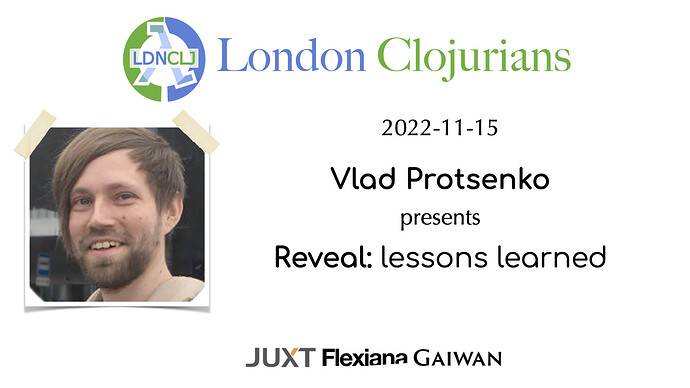 THIS IS AN ONLINE EVENT
[Connection details will be shared 1h before the start time]
The London Clojurians are happy to present:
Title: Reveal: lessons learned
Speaker: Vlad Protsenko
Time: 2022-11-11T18:30:00Z
Local time: 18:30 on Tuesday, November 15, 2022 in London, United Kingdom - Time.is (click here for local time)
RSVP: Reveal: lessons learned (by Vlad Protsenko), Tue, Nov 15, 2022, 6:30 PM | Meetup
Vlad Protsenko (vlaaad (vlaaad) · GitHub) will be presenting:
"Reveal: lessons learned"
In this talk Vlad shares his findings after developing and using
Reveal daily. Reveal (GitHub - vlaaad/reveal: Read Eval Visualize Loop for Clojure) aims to solve
this problem by creating an in-process repl output pane that makes
inspecting values as easy as selecting an interesting datum. It
recognizes the value of text as a universal interface, that's why its
output looks like a text: you can select it, copy it, save it into a
file. Unlike text, reveal output holds references to printed values,
making inspecting selected value a matter of opening a context menu.
Vlad is a software developer currently buliding desktop applications
in Clojure. He also plays DnD and Fortnite. Another one of his hobbies
is caring for plants.
If you missed this event, you can watch the recording on our YouTube channel:
https://www.youtube.com/c/LondonClojurians
(The recording will be uploaded a couple of days after the event.)
Please, consider supporting the London Clojurians with a small donation:
Your contributions will enable the sustainability of the London
Clojurians community and support our varied set of online and
in-person events:
ClojureBridge London: supports under-represented groups discover Clojure
re:Clojure: our free to attend annual community conference
monthly meetup events with speakers from all over the world
subscription and admin costs such as domain name & Zoom plan for
larger online meetups
Thank you to our sponsors:
And many individual sponsors
RSVP: Reveal: lessons learned (by Vlad Protsenko), Tue, Nov 15, 2022, 6:30 PM | Meetup