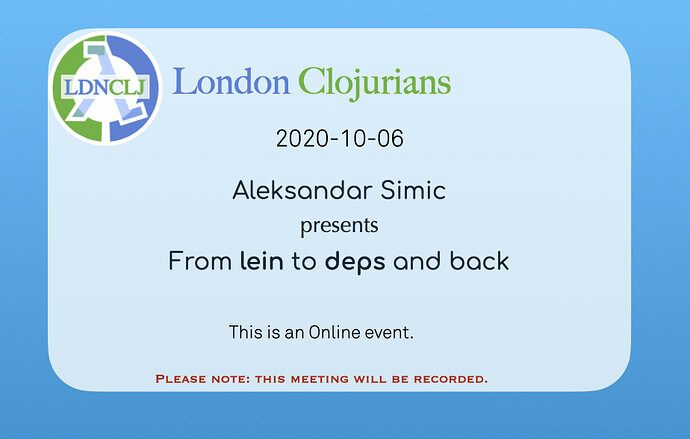 The London Clojurians meetup is proud to present:
Title: From lein to deps and back.
Time: Tuesday, October 6, 2020 - @18.30 GMT+1 (click here to see local time)
RSVP: https://www.meetup.com/London-Clojurians/events/273479594/
Aleksandar Simic (dotemacs (Александар Симић) · GitHub) will be presenting how to use the new clj command-line tools in conjunction with deps.edn.
Aleksandar is a hands-on CTO for hire, with 15 years experience, last six of those are in Clojure. He's worked in various industries, from telecommunications, internet service providers, consultancies, government, e-gaming to e-commerce.
Leiningen is still the prevalent build tool in the Clojure community with over 80% of the users making use of it. However, there is a sharp adoption of deps.edn tooling as well.
Aleksandar will show how to use the new command-line tooling for those who still are using Leiningen and are curious about the new deps.edn.
RSVP: https://www.meetup.com/London-Clojurians/events/273479594/
Connection details will be send 1h before to the ppl who RSVP'd