As I am preparing to finally get the next Calva version (a k a Calva 2) out the door, I need some symbol/image that I can represent a CLI/deps REPL with. Calva tries to make it easy to switch between, and know which, type of repl (CLJ or CLJS) that is evaluating your forms. In Calva 2 I also want to surface what build tool is used (mostly because I think it is nice to do so, but anyway).
It currently looks like so for a Clojure session powered by Leiningen.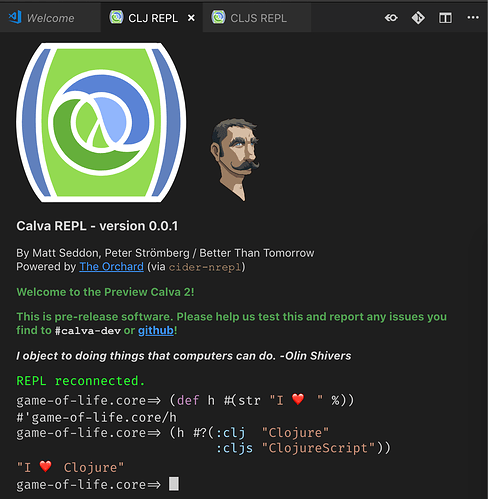 And like so for a shadow-cljs powered ClojureScript repl.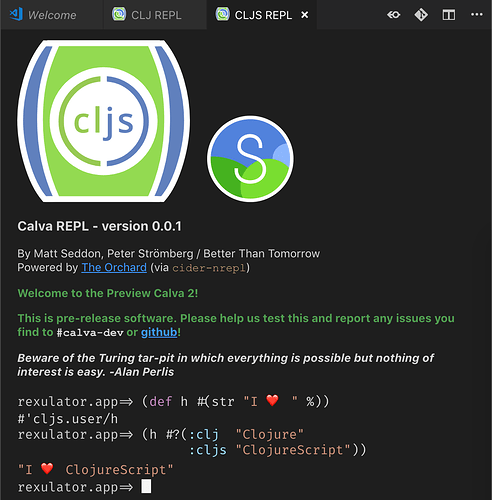 I have asked Bruce Hauman to consider making a Figwheel Main logo that can be used for these kind things. For CLI/deps I don't really know where I would ask it and also I doubt they would have time for it, but maybe someone has the graphics skills, that I lack, to create something that would work nicely in the Calva REPL window? This is my call for assistance.
To manage expectations some; Calva 2 is still a bit away from release. I am stuck on a nasty bug and once I'm past that I will need to deal with some of the rougher edges before unleashing it on my fellow Clojurians. We'll see when it happens. Anyone who wants to take it for a spin and help testing it for me is welcome to the #calva-dev channel on the Clojurians Slack to pick up the dev builds I post there now and then. (Or just fork and distill your own Calva, it is super easy.)