I'm considering dropping Om from Chestnut. The main benefit of Chesnut is taking care of tedious setup so you don't have to. Adding Om is very straightforward, more so than it used to be, you just add it to the project, there aren't many caveats.
Even if we don't drop Om, we'll have to decide to stick with "classic" Om, or switch to om.next. But om.next is pretty much a new react wrapper, so in that case we could just as well switch to Reagent, or Rum, or … and if we're going down that path we should probably switch to the most popular option, which looking at clojars downloads is Reagent.
So… drop Om and don't put in a react wrapper by default? or switch to Reagent and use that?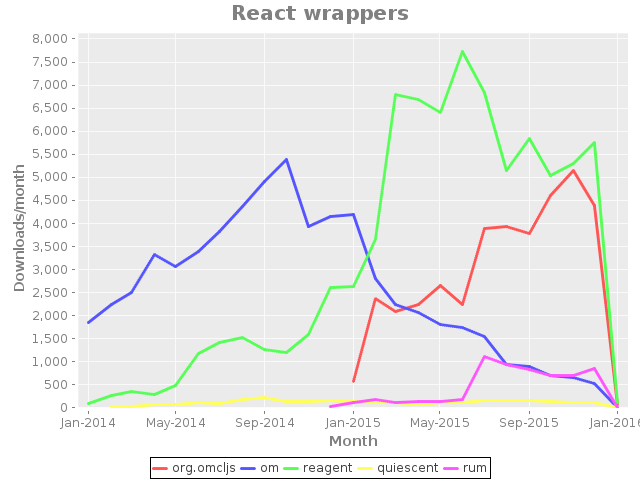 Actually looking at the graph again, it's hard to say if reagent is really the biggest now, since Om is spread over two orgs (om and org.omcljs), so you really have to add the blue and red curver together. Also ignore the data point for January, obviously there's not enough download data yet for this month to say anything useful.