Inspired by Parinfer and Paredit: embrace or avoid? - #8 by shaunlebron, I whipped up a really basic frame-based code viewer for Clojure/ClojureScript.
You can see it live at http://lincoln-b.com/blocks.
All it does right now is turn code into a basic box representation like this: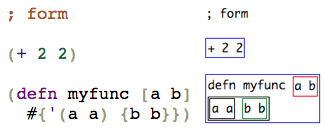 Obviously, quite a bit of information is lost, and that's where I need some help. What do you think is the best way to represent semantic blocks of code using colored boxes without losing any data?
Currently regular forms are blue, vectors are red, maps are green, and everything else is black. I've toyed with different border decorations (dotted, squiggly, double), as well as box-shadows and labels, although including the labels sort of defeats the purpose.